This post may include affiliate links, which means I may make a commission on purchases made through these links at no additional cost to you.
Alright, so I'll admit it doesn't actually get cold in Hawaii (except on the mountains where it snows, but they're on other islands), but it does get cool. When your home isn't air-tight and there are 20+ mph winds on a regular basis, mid 60s starts to feel pretty chilly!
Anyway, whether or not anyone else would feel chilly, it's been cooler and more dry than usual recently, so I decided to create this cinnamon latte whipped sugar scrub recipe! It smells amazing while exfoliating and moisturizing dry winter skin. I hope you enjoy!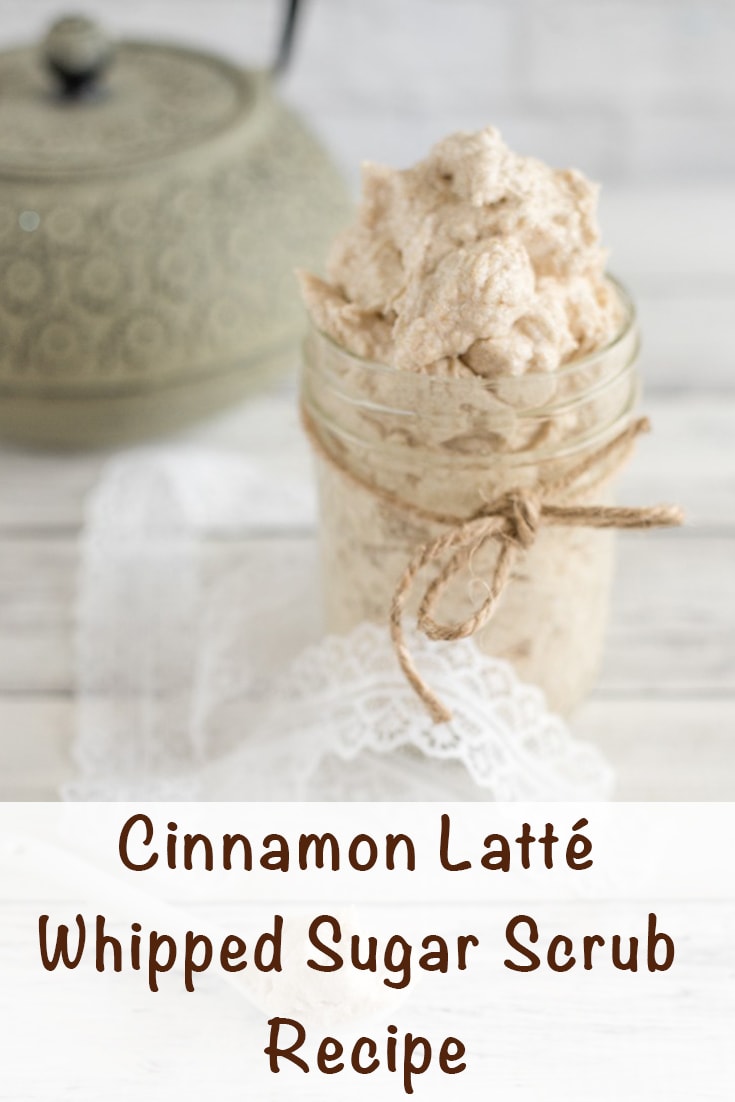 In addition to being a nice thing to make for yourself, this cinnamon whipped sugar scrub would make a really cute present or hostess gift. The recipe as given makes a pint of whipped sugar scrub. Keep it for yourself or fill four jelly jars for friends.
Ingredients for cinnamon latte whipped sugar scrub
1/2 cup organic raw shea butter
1/3 cup carrier oil. I used coconut oil, but you can use almond, jojoba, etc.
1/2 cup light brown sugar
1/2 cup granulated sugar
1 teaspoon vanilla extract
1/2 teaspoon ground cinnamon (make sure it's fresh! If it doesn't smell cinnamon-y, use 1 full teaspoon)
1/2 teaspoon cornstarch or arrowroot powder (optional, but will help the scrub feel less oily)
A jar to put it in! I recommend a pint jar, but you can split it it multiple smaller jars.
Cinnamon Latte Whipped Sugar Scrub Recipe
I used my stand mixer to make this whipped sugar scrub, but you can also use a hand mixer. If you're on the fence about purchasing a stand mixer, get one! I've used mine at least once a week for three years and am so glad I have it. I used the balloon whisk attachment to make this recipe, but just use the regular beaters (not whisk attachments) if you're using a hand mixer.
Also, I highly recommend sanitizing your glass jar, or jars, before transferring the whipped sugar scrub over. This can be done in a variety of ways, including in a hot water bath or with sanitizing solutions. Is it it 100% necessary? Maybe not, but I have to recommend it. =)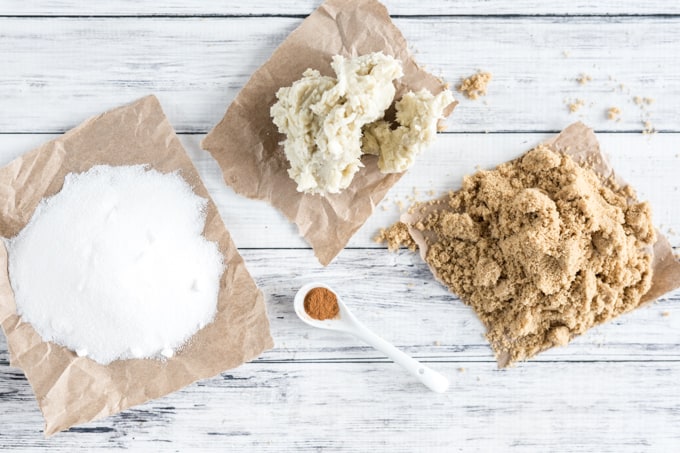 1. Place the shea butter in your mixing bowl and mix on medium until it becomes creamy. If your shea butter is really hard, pop it in the microwave for 10-15 seconds, but usually if you just keep mixing the friction of the beaters will warm the butter sufficiently before long.
2. Slowly pour in the carrier oil and whipped until fully combined and the mixture resembles soft whipped cream.
3. Add in the sugars and cream, moving speed up to medium-high. It will become creamy, like when you beat butter and sugar to make cookies.
4. Add the vanilla, cinnamon, and cornstarch/arrowroot and mix on medium-low to combine.
5. Transfer to a clean glass jar (or jars).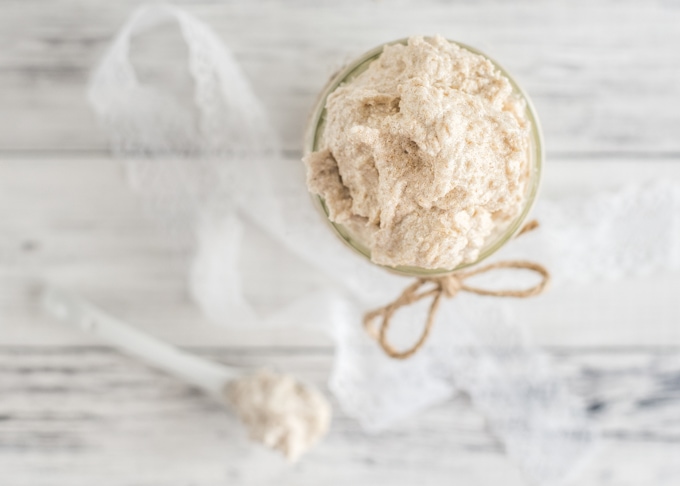 6. Use with warm water to exfoliate and moisturize! It's particularly nice for hands and feet. To keep your sugar scrub from becoming contaminated, ensure your hands are clean before dipping them in or use a spoon/small spatula to scoop some out. If you live somewhere warm or your scrub starts to separate, simply store it in the fridge.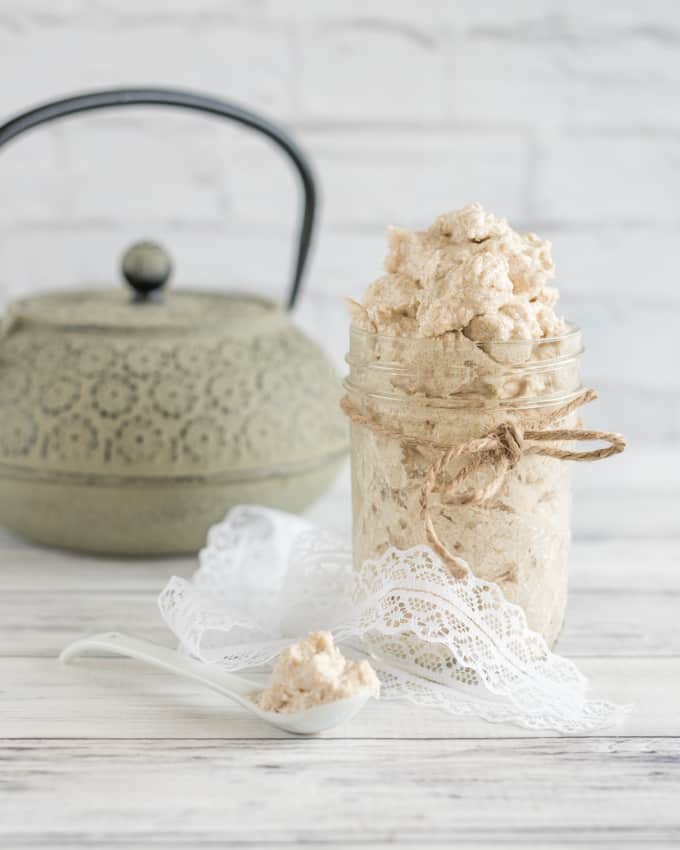 If you enjoy this whipped sugar scrub recipe, you might also like my recent honey almond lip sugar scrub. It's so delicious and perfect for the more delicate skin on your lips!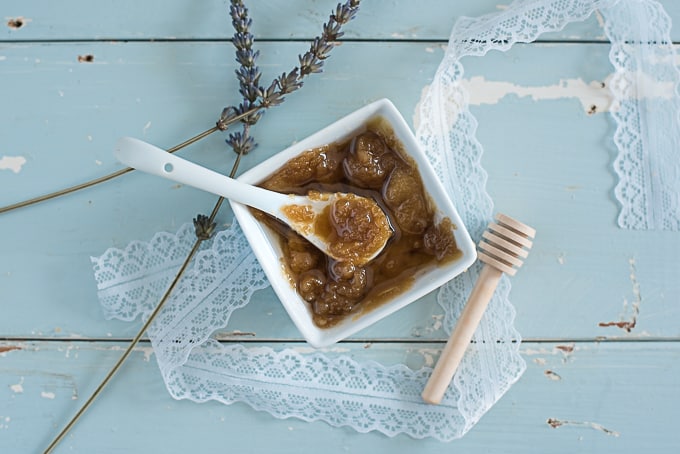 What are you doing to take care of yourself and your body this winter?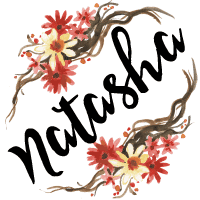 More Related Posts