Cuban-inspired Puerto Rican lasagna? That seems like about three contradictions in one, doesn't it?
Puerto Rican sweet plantain lasagna, or pastelon, is a very real dish, and this version is Cuban-inspired because Papi Chulo got ahold of it and added a slight cuban twist with a couple small changes, like adding chopped almonds to the meat mixture.
The resulting dish is sweet, salty, savory, and cheesy, all at once. In short, it's like no other lasagna you've ever tried before!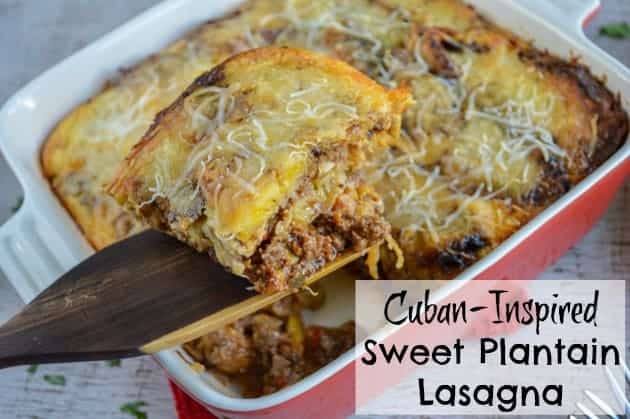 This lasagna is very easy to make Paleo – simply leave out the dairy! Depending on what level of Paleo you're looking for, you may also want to leave out the capers and olives since they contain a lot of salt. The almonds we used were already the unsalted kind, so you're good to go there!
No matter how you choose to make it, I guarantee you haven't experienced anything like the tropical flavors of this new favorite at our house.
This post may include affiliate links, which means I may make a commission on purchases made through these links at no additional cost to you.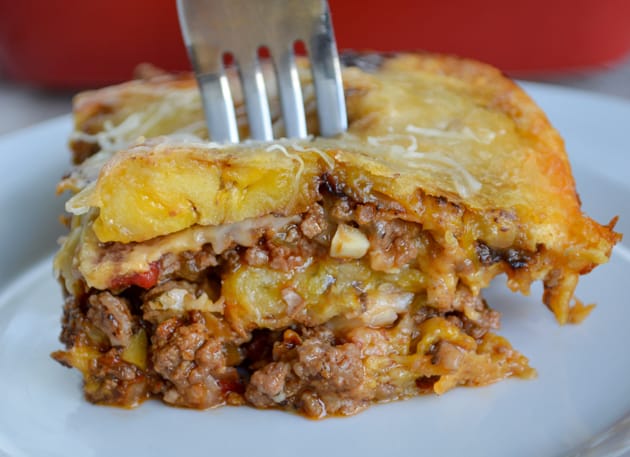 Plantain lasagne recipe
Cuban-Inspired Puerto Rican Sweet Plantain Lasagna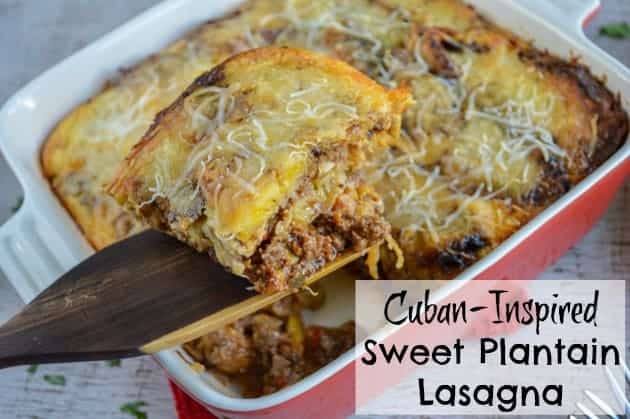 Ingredients
Cooking oil or spray
1 medium onion, chopped
2 cloves of garlic, minced
1/2 a green bell pepper, chopped
1/3 cup of roasted red pepper, chopped
2 tablespoons of cilantro, chopped
1/4 cup of green olives, chopped (measure out 1/4 C and then chop)
1 teaspoon of capers
1 1/2 teaspoons of cumin
1 teaspoon of oregano, preferably Mexican instead of Italian
1/2 teaspoon of freshly ground black pepper, or to taste
4 ounces of Spanish-style tomato sauce
1/4 cup of dry white wine or 1/4 cup of chicken broth (sub water if you really, really have to)
1/4 cup of chopped, un-salted almonds or plain almond slivers
3 ripe plantains
2/3 cup of shredded mozzarella cheese, or a soft Mexican cheese
2/3 cup of shredded sharp cheddar cheese
2 eggs
1 tablespoon of milk or cream
Instructions
Pour or spray a light coating of cooking oil into a large, heavy bottom skillet (I used my 12" skillet) and heat on a medium-high burner until the oil is hot and shimmering.
Add the ground beef and spread it out as much as possible. It should sizzle when it hits the pan. If it doesn't, the pan isn't hot enough.
Allow the beef to brown without stirring it for a couple of minutes, or until it has browned nicely on the bottom, and then flip/stir it around and reduce the heat to medium.
Allow the beef to cook, stirring as needed, until fully browned. This should only take 6 or 7 minutes, maybe less, but the amount of time needed depends on your pot, stove, and the quantity/initial temperature of the beef you're using.
Once the beef is browned, push it to one side of the pot and add the onions. Sauté for 2-3 minutes, stirring occasionally. Add the garlic, stir, and cook for about 30 seconds.
Add the green bell pepper, roasted red pepper, cilantro, green olives, capers, cumin, oregano, and black pepper and stir to combine.
Add the tomato sauce, wine or chicken broth, and almonds, and then stir, bring to a simmer, and reduce heat to low. Allow the meat to cook, stirring occasionally, for 15-20 minutes, or until most of the excess liquid has steamed off.
While the meat is cooking, heat your oven to 350 degrees Fahrenheit and begin preparing the plantains. Cut them into long, thin slices. If you can cut slices the entire length of the plantain, that's wonderful. If you can't, cut them at an extreme diagonal to create the longest slices possible.
Use a second pan (a skillet or even a Dutch oven will work) to cook the plantains. Pour about 1/4" of oil into the pan and heat on medium high. Once it's warm and shimmering, add plantain slices and cook for 1-2 minutes on each side, or until they're lightly golden brown. Remove cooked plantains to drain on paper towels and add oil as needed. I've found that using a combination of tongs and a spatula works best for flipping and removing the plantain slices - the thin slices are easy to mangle using tongs, alone.
Once the meat is ready and the plantains are cooked, you can finally begin assembling your lasagna!
Coat a 9x9 casserole dish with cooking spray or use vegetable oil and a brush or paper towel. Carefully place a single layer of cooked plantain slices along the bottom.
Once the plantains are in place, spread about 1/3 of the beef mixture over the plantain slices.
Combine the two shredded cheeses in a bowl and sprinkle about 1/4 of the mixture over the beef.
Place a second layer of plantains over the cheese and then continue by making two additional beef/cheese/plantain layers. You should be able to make three total beef layers and four plantain layers, but if your plantains were smaller you may need to make three plantain layers and two beef layers, instead.
Once you've made your final plantain layer, sprinkle it with your remaining cheese.
Vigorously beat the eggs and milk or cream together in a small bowl or a measuring cup with a spout. Pour it over top of the completed lasagna - it's okay if you don't quite use all the egg mixture.
Allow the lasagna to sit for about 5 minutes so the egg can permeate the layers and then place it on the middle rack of your preheated oven.
Bake until the cheese is bubbling and browned, about 35-40 minutes. Make sure to check on it starting at about 25 or 30 minutes, though, because baking dishes and ovens do vary!
Remove the lasagna from the oven, allow it to cool until it won't burn you, serve, and enjoy!
This dish is easiest and fastest to put together with two people – one person can work on the plantains while the other cooks the beef or one person can cook the plantains while the other assembles the lasagna. We did the latter – we waited until the meat was almost ready to begin cooking the plantains, Papi Chulo fried them, and I assembled the lasagna as plantain slices became ready. It would have taken me forever to do by myself!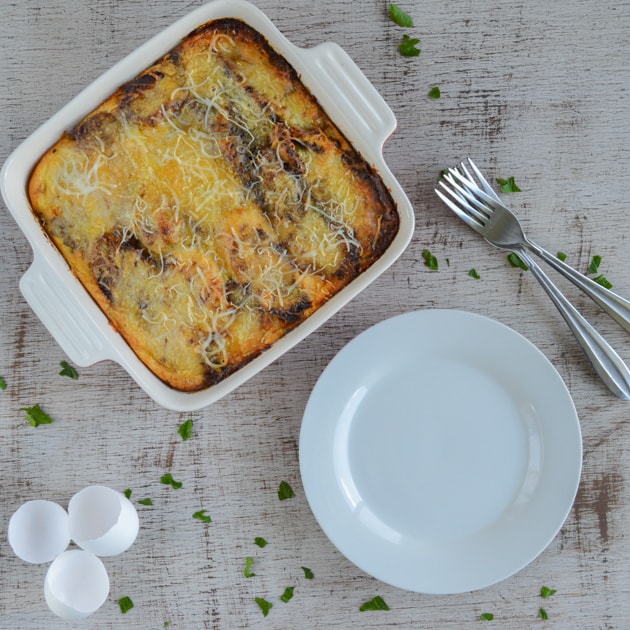 This lasagna keeps well in the refrigerator.
Simply wait for it to cool completely, cover it tightly with plastic wrap, and place in the fridge. It keeps at least four days, but I can't speak for longer than that! I don't image it wouldn't freeze well, but I could be wrong. Weirdly enough, Papi Chulo likes to eat the lasagna with rice. That may seem strange, but the plantains are fairly sweet and he wanted something not sweet to balance the meal out. Now we simply eat small slices of the lasagna with some rice instead a big piece of lasagna!
As a "quick sidebar," I'd like to take a moment to talk about high-quality cookware. I am very thankful to have a family that knows how much I value kitchen tools that work and have been able to accumulate kitchen gear I love over the past few years.
High-quality cookware and appliances can be really expensive, but they can also last you for years and years. I think the most important thing to remember is that you should look for true quality, not just a brand name. For example, I have a wonderful set of Tramontina Tri-Ply Clad cookware and I used my 12″ Tramontina skillet for this recipe. I've never worried if things I had weren't high-profile brand name as long as they worked just as well and am currently exploring making my own wedding veil and decorations. =)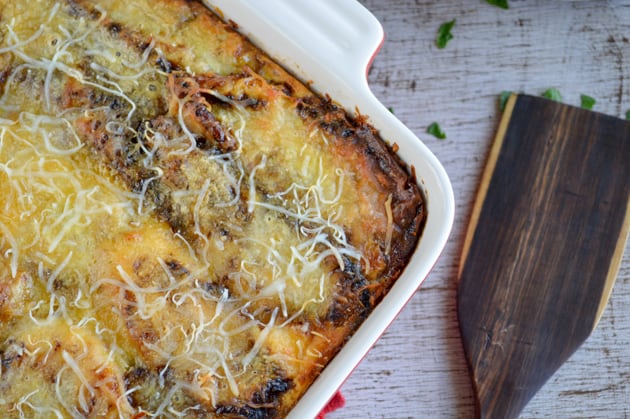 If you like Cuban-inspired food, you'll love this mojo pork tenderloin recipe!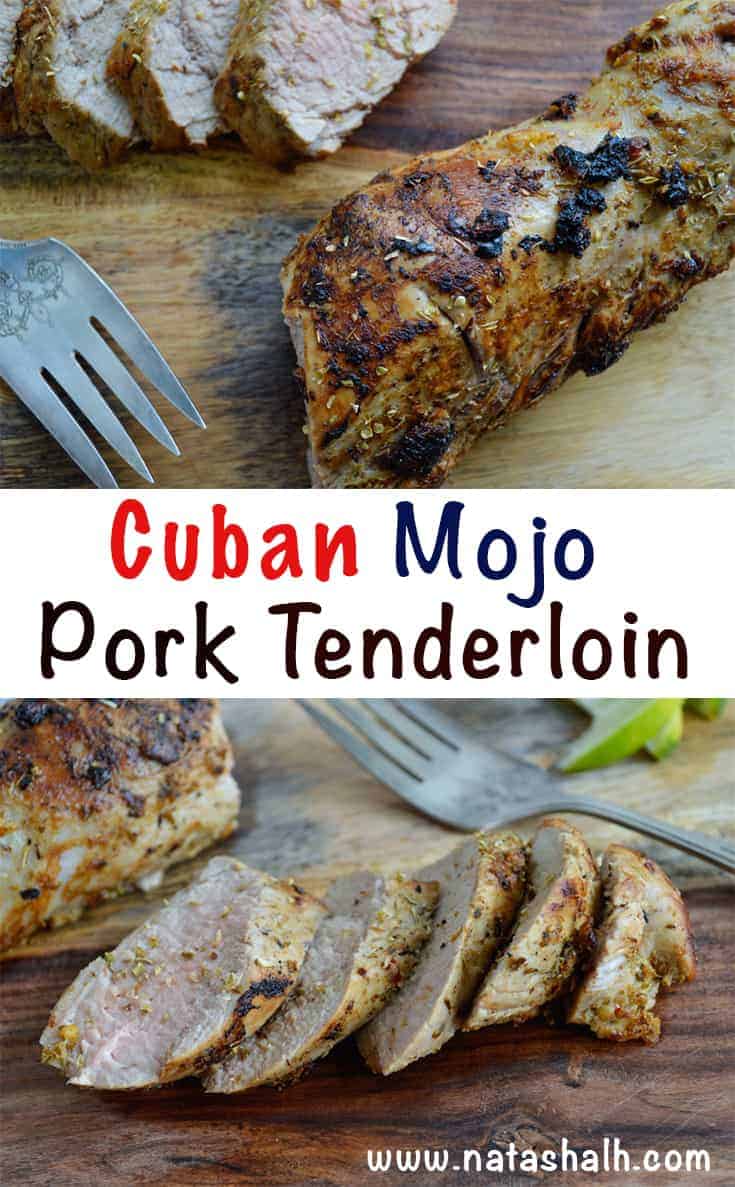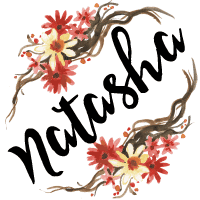 More Related Posts