This post may include affiliate links, which means I make a commission on purchased made through these links at no additional cost to you. Thank you for your support! !
Welcome to another Friday Photoshare! Blogging Business Artisans teammate recently called in my "Fabulous Friday" series, and I think that name is pretty awesome. Thanks, Pam!
This week I'm sharing not only the finished photo, but a bit of the process, too. Some of you may have already seen this photo earlier this week on Instagram, Flickr, or my FB Page: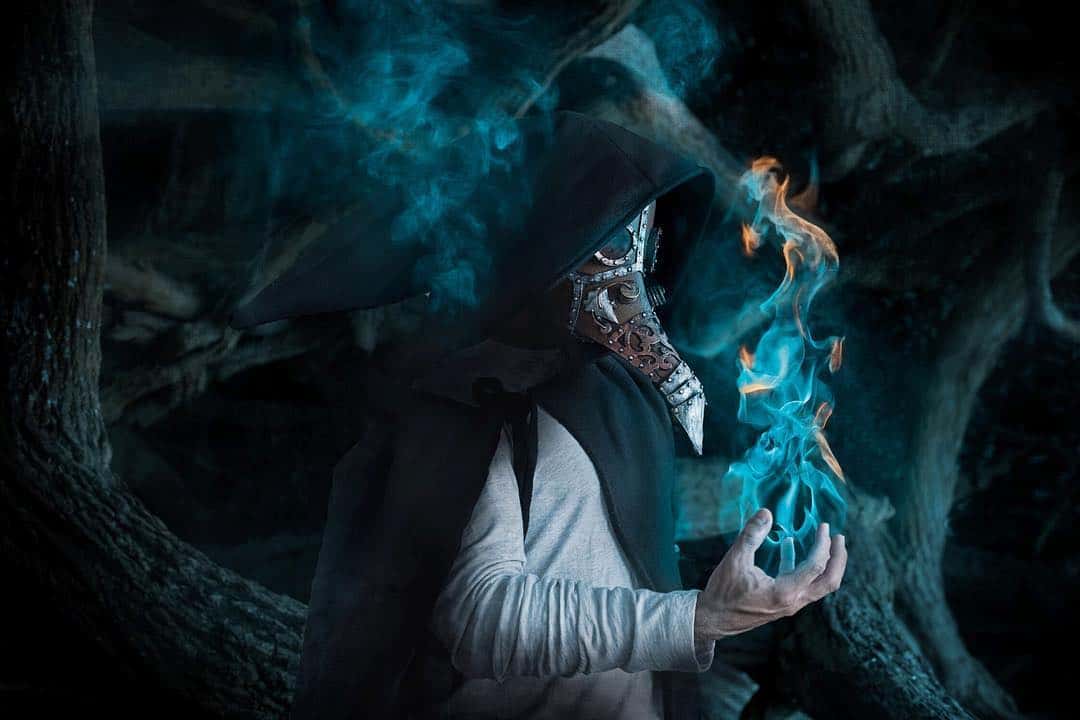 This is the first time I've successfully talked my husband into getting in front of the camera and playing subject, so I'm very excited! Hopefully he'll be more comfortable with additional portraits in the future, now that he sees how awesome they can be. =)A couple of weeks ago, I mentioned the YouTube channel Lost Wax and said we'd purchased his cool patterns/were in the process of making a couple neat steampunk props. The pictured plague doctor mask is from one of his patterns! Halloween is on the way, and I highly recommend his channel and patterns for anyone who wants to craft their own props/accessories. He has some spectacular things, ranging from goggles all the way to a full diver's helmet!
If anyone is curious, I also made the cloak. I created it by combining two free patterns available on Fleece Fun, and I'm pretty sure going to the fabric store took longer than actually sewing it up. Fleece Fun is another great resource if you're looking to make some costume pieces!
So let's begin at the beginning. This is the original, un-edited shot for this photo. We took it at the beach shortly before sunset, but on the non sunset-y side of the island. This crazy tree provided the perfect backdrop:
My first step was to clone stamp out the bright spots where light was showing through the tree. Because the dark areas ended up so dark in the final image, I probably should have just painted black over them and saved a couple of minutes.
Then I isolated my subject and did some basic edits to make him a bit brighter in some areas and less highlighted in others. I'd shot the original picture a bit dark for the sake of the background and planned to brighten him up some because it's easy enough to do when you shoot in RAW.
I also added some adjustment layers to the background to darken it down and remove some saturation. (Curves adjustment layers can make the colors start to look funky!)
From there, I started playing around with the flames. I shot the photo knowing I'd want to add some sort of eldritch flame effects to the photo, so I browsed what I have available and settled on this one (shown here post-masking). This is part of the Fire and Sparks package from RAW Exchange. At only $10, it's a bargain and very easy to use! Because this was always my intent for the photo, I shot with my subject facing the light so the shadows would naturally fall on the correct side of him once the flames were added.
In a recent newsletter, the folks at DIY Photography (who run RAW Exchange) talked about using adjustment layers to change the color of flames, sparks, smoke, steam, etc., so that's exactly what I did! Then I used a layer mask to let some of the original orange color shine through a bit.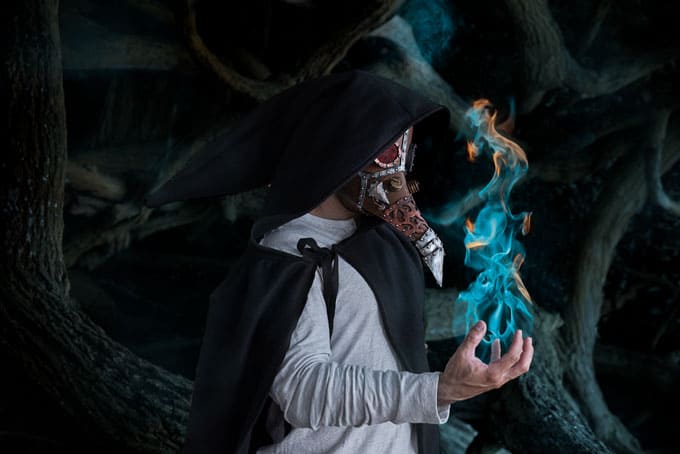 I repeated this process with additional steam and smoke from the Smoke & Steam package and just copied the hue/saturation adjustment layer from the flames to keep the blue the same. I also popped the same blue hue onto the background.
Additional steps including dodging and burning to make details really pop, highlights along the subjects hand, body, and mask to make the flames look more plausible, and painting a bit more blue into the background using a textured brush. One of the very important things I did was darken down the area where his shirt was showing near the neck. It was quite distracting!
I always add textures to my photo manipulations, so that's exactly what I did here! Some of my favorite textures are available free from The CoffeeShop Blog. She has fantastic free resources for photographers, so if you're not familiar with her blog I recommend checking it out! I also like using textures provided by Brooke Shaden on her blog (though this particular photo doesn't have any of her textures), and I've been taking my own texture photos lately, too (this photo has two of my textures applied). (I'll probably share some of them on The Artisan Life in a few weeks.) And that brings us back to the completed photo!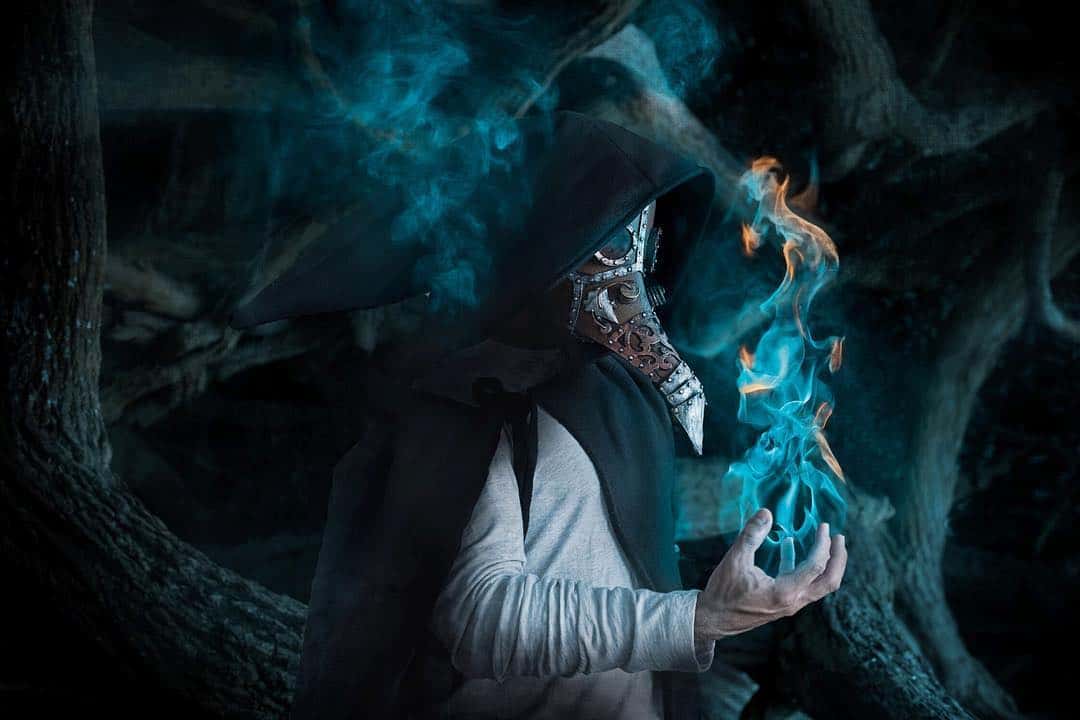 Although this looks very complicated, this photo was a pretty quick creation for me and only took about 2.5 hours. Pictures that require more elaborate compositing than quickly masking some flames take me a lot longer than that! Though, in a sense, I guess we've been working on the photo since Labor Day because that's when we began construction on the mask…
If you enjoy seeing the work in progress steps, please let me know! This was a fun post to write, and I'm happy to do more like it in the future if you'd like to see them. =)
Adios for now! Time to pack for Colorado. Hopefully I'll come back with loads of new photography and editing knowledge and photos to share!