This super easy hack to make a ring smaller at home was featured on Buzzfeed! Discover how to resize a ring at home with this easy tutorial.
Through mismeasurement and a tiny bit of miscommunication, I have a beautiful, handmade just for me engagement and wedding rings that are half a size too big.
All three of our rings have a unique textured exterior and engraved writing hidden inside, which made me hesitant try traditional resizing methods. Besides, who wants to hand over a brand new ring for resizing?
Instead, I decided to figure things out for myself and I knew I had to share. I hope you enjoy this tutorial how to resize your ring at home! (When I say "resize your ring at home" I'm speaking proverbially. There will be no damage or permanent alterations to your ring – yay!)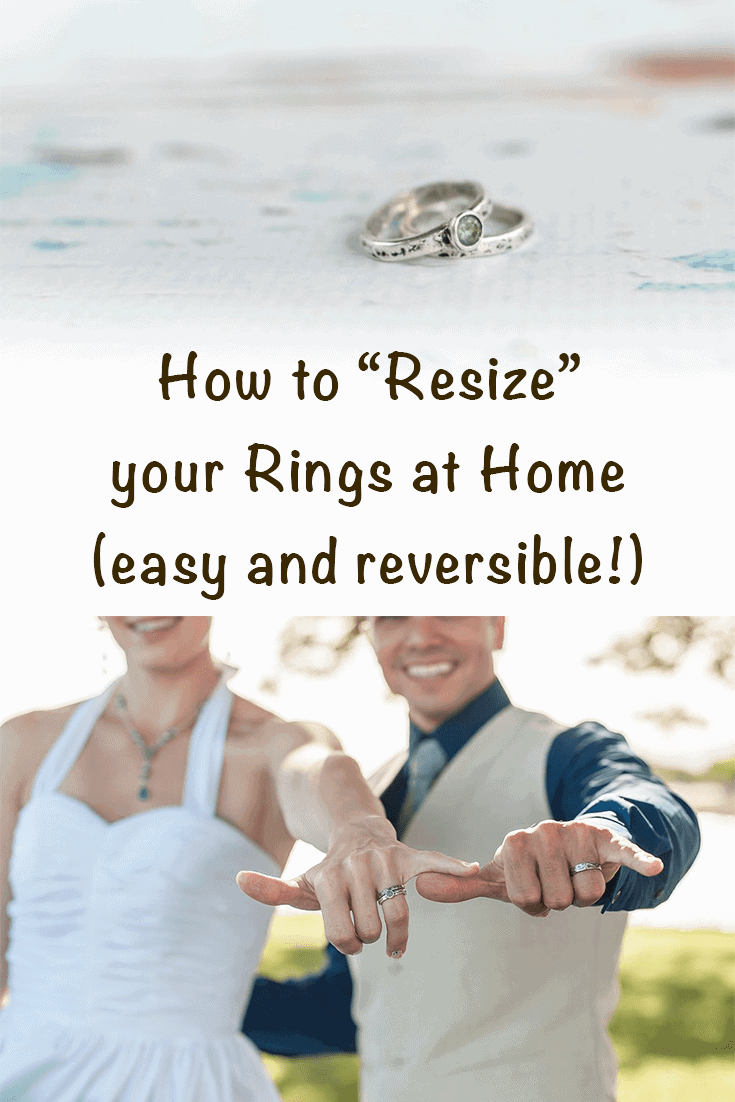 This post may include affiliate links, which means I may make a commission on purchases made through these links at no additional cost to you.
Don't lose track of this post! Pin it to your favorite board now!
After exploring my at home-type resizing options, watching videos showing you how to cut your ring and bend it (uhhh, no!), and reading a litany of reviews, I gave up and bought some of those clear plastic "ring snuggies," tried them, and hated them because the way they stick out on the palm side of the ring was uncomfortable and unattractive.
After a little thinking and experimenting, I finally realized that I could reversibly resize my ring in a way that didn't show using clear-drying, food grade silicone adhesive. It sounds strange, I know, but it works and I'm here to show you how in this tutorial!
An entire tube of silicone costs less than any other "temporary" ring resizing option I've seen, it actually works, and it doesn't damage your ring.
Materials needed to make your too big ring fit
A food grade silicone sealant (clear). Try something like the food grade safe option shown below, or just search Amazon for food or "aquarium" grade silicones. These silicones should be almost 100% pure silicone with an agent that evaporates during the curing process.
A coffee stir stick, small popsicle stick, or another relatively small, flat applicator
A paper towel
Your ring
Rubbing alcohol
Silicone Sealant 100% RTV - 2.8 oz Squeeze Tube -Clear-
100% RTV Silicone is a non-slump sealant and can be applied to vertical or overhead surfaces without flowing or sagging
one-part, moisture-curing RTV (room temperature vulcanizing) silicone that cures to a strong, silicone rubber that maintains long-term durability and...
excellent resistance to weathering including ozone, ultra-violet radiation, freeze-thaw conditions and airborne chemicals
I highly recommend using using a food safe pure silicone adhesive.
Food grade silicone sometimes comes in colors (white, red, etc.), so make sure you get clear if you want it to, well, dry clear!
Because metal is nonporous, the silicone is ultimately removable. After it dries, you can peel it away with your fingernail. If you want to know exactly how the silicone behaves on metal and how "difficult" it is to remove, I suggest you experiment on the back of a spoon or inside a random ring for you own peace of mind.
Allowing the silicone to cure fully is crucial.
If you start wearing the ring when the outside is dry but the silicone still looks foggy, it will probably come loose in just a few days.
Allowing it to cure until it's fully clear (which can be overnight or longer) creates a layer that can stay in place for weeks. Most food safe sealants need to cure 24-48 hours before they become non-leaching, so that is something to keep in mind, too.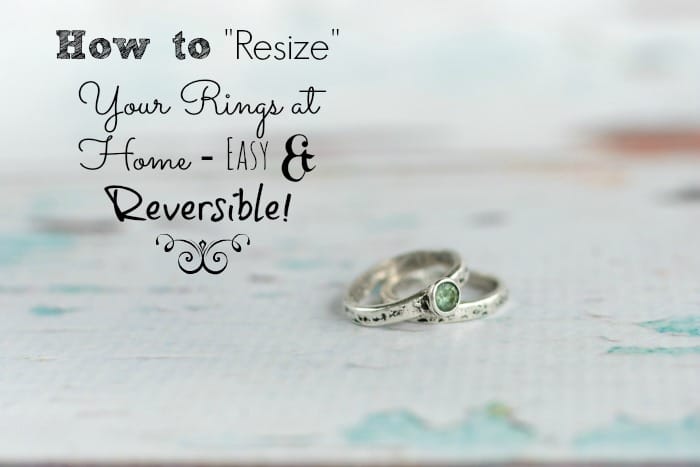 How to resize your ring at home
Clean your ring with rubbing alcohol. Stay away from the setting if you have a pearl or paste gems.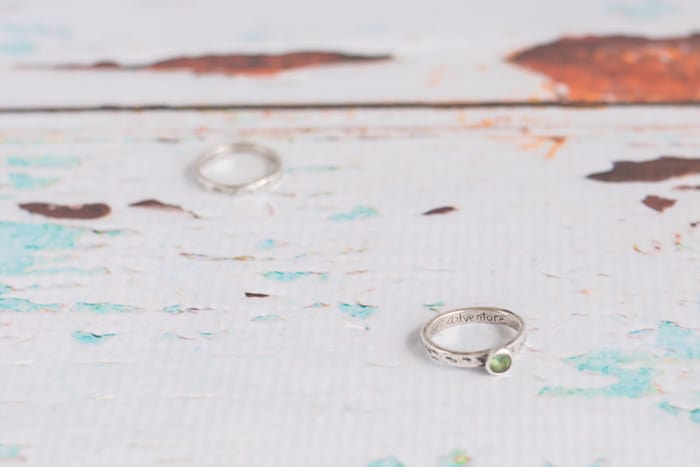 2. Using your applicator (coffee stir stick), dab a small amount of the silicone adhesive inside your ring. Generally you want the inside portion furtherest away from the stone to have the thickest silicone application. Apply a small, tapering amount of silicone up the ring's sides. Because the silicone is clear, it is difficult to see. You can tell the texture is there if you look at the photo closely, though!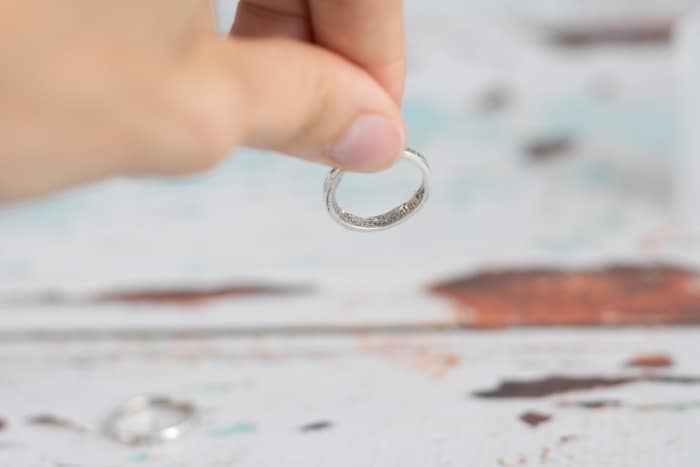 3. Smooth the silicone adhesive as much as possible using your applicator or a finger.
4. Clean any excess adhesive from the outer portion of the ring using a paper towel, wetting it slightly with water if needed.
5. Allow the silicone to cure (check your package for curing times!), try your ring on, and reapply additional layers of silicone, as needed. It may shrink slightly as it cures.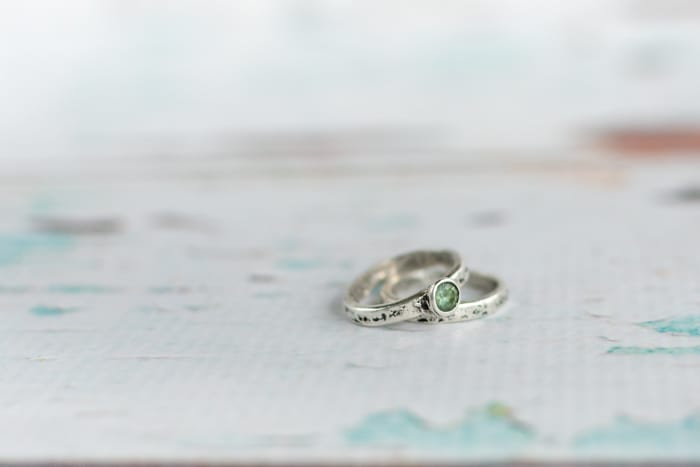 6. Try to refrain from wearing your ring (or wear it as little as possible) for 24 hours to allow the silicone to cure. The tube says it takes 24 hours to cure fully, but go by how your silicone looks and feels.
7. In order to remove the silicone, loosen it with your fingernails and simply peel it away! It is easy to remove and doesn't leave a residue behind.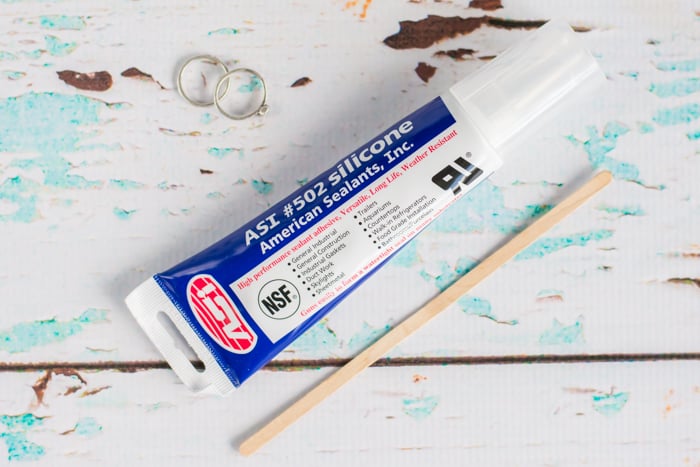 The silicone is very durable – it doesn't come off when you wash your hands or remove your ring (a common complaint about commercially-available ring resizing solutions). Please note, however, that some lotions, sunscreens, and perfumes could degrade the silicone. I haven't had this personally happen, but it seems to have happened with some folks in the comment section.
With time, the silicone will get sort of grubby looking and will eventually loosen at the ends, but it's easy to peel off and apply anew! I need to remove the silicone and re-coat my ring about every month or so, which isn't too bad.
As I mentioned above, it only lasts this long if you let the adhesive cure fully before wearing the ring. Wearing it too soon loosens the seal and results in a layer that peels off within days. Trust me, I understand how difficult it can be to keep that ring off your finger (especially if it's new!) for the time required, but it's worth it.
This technique is an easy way to resize a ring for everyday wear or to eliminate ring spin on a special piece of jewelry for a party or event.
Will this way to make rings smaller work on my ring?
Over the years I've received many questions from people wanting to know if this hack will work on their ring. To the best of my knowledge, it will work on any ring. It should work just fine with:
Silver rings
Gold rings
Platinum rings
The only rings I would not recommend this with are porous rings, like rings made from unsealed wood that isn't lined with metal.
No matter what you use it on, I hope you can put this method of DIY ring resizing to good use and please let me know if you have questions!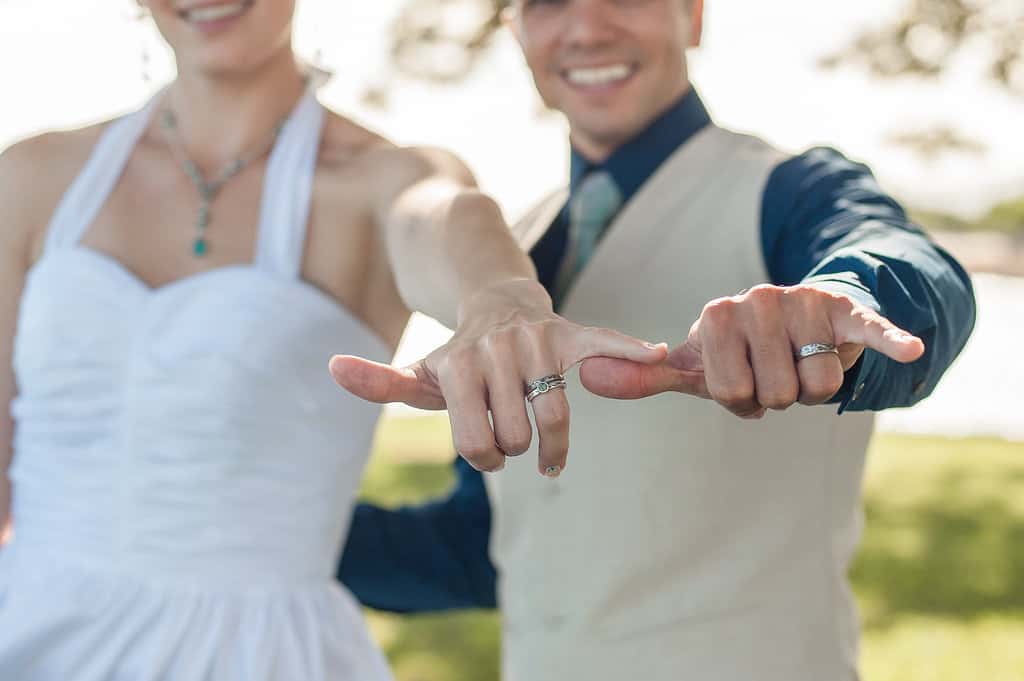 Update! I now have a second tutorial showing you how to make your ring smaller with nail polish! It's another option if you're looking for a solution for a too big ring.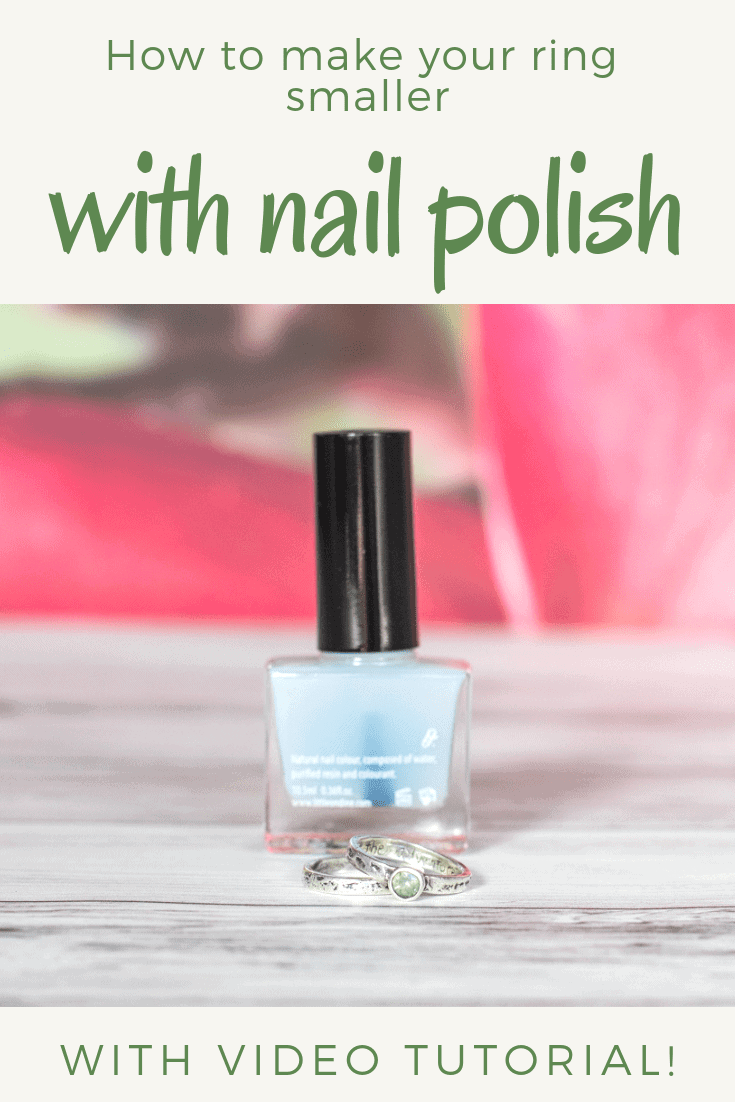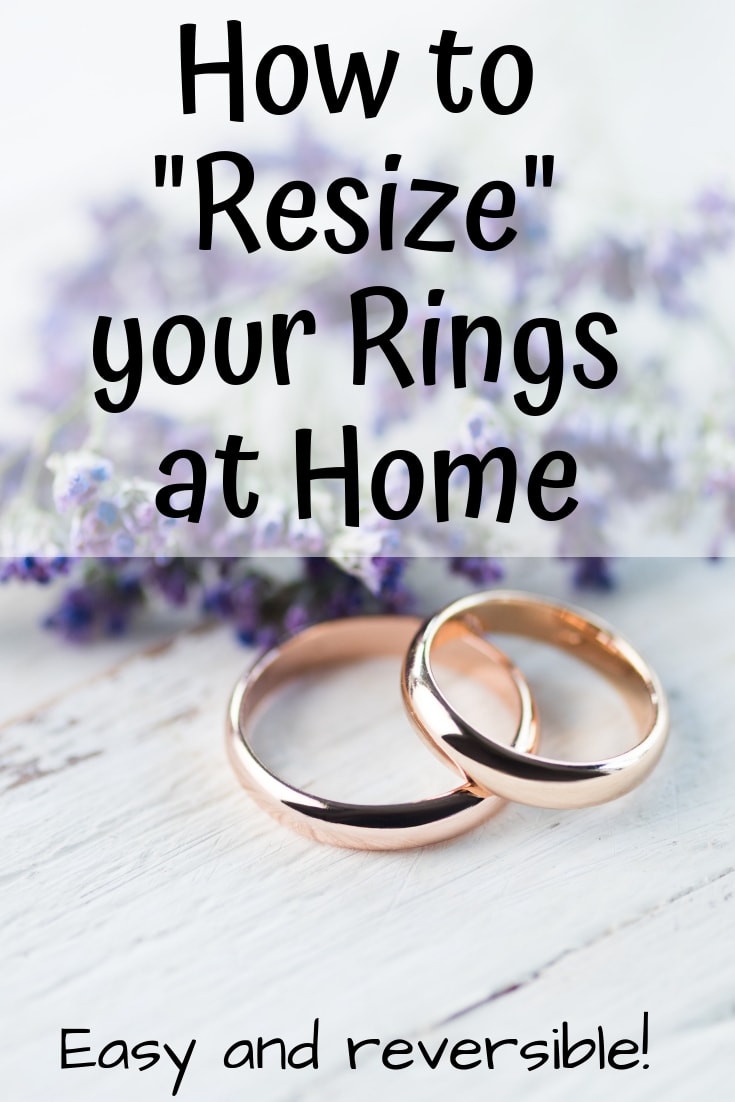 More Related Posts
[catlist search="tutorial" number
SaveSave