This post may include affiliate links, which means I may make a commission on purchases made through these links at no additional cost to you.
Living in Hawaii without air conditioning tends to make 'traditional' Christmas decorations feel a bit silly! I do still like to decorate, though, but I try to come up with less usual projects that make them suit our space a bit better. That's how the idea for this magical fairy snow globe came about!
I know there are approximately one zillion snow globe tutorials out there already, but I haven't seen a fairy snow globe quite like this before! Plus this lovely lady has the added benefit of being appropriate all year round so you don't have to pack her away in January. =)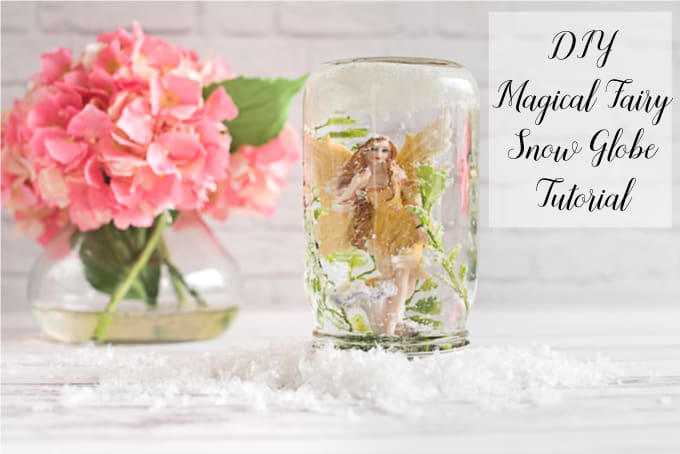 To make a fairy snow globe, you will need:
A fairy figurine! Make sure she fits in the jar you plan to use. You can small or large – the choice is yours!
A jar. You can repurpose a jar or use a new one. I used a wide mouth Kerr pint jar so my fairy would fit, but make your selection based on what you plan to include! I do recommend using a canning jar, if possible, because it's designed to have a tight seal
Other fairy garden-type elements. I added some artificial plants. Signs, mushrooms, turtles, gnomes, and plaenty of other things would be cute, too!
Distilled water
A tiny amount (a few drops to a teaspoon or two, depending on the size of your jar) of glycerin
Waterproof adhesives. I used medium CA (super glue) and hot glue. E600 would also work, but has a longer trying time and smells horrible
Glitter! I used white, but other colors would be nice, too
Fake snow (Totally optional, and maybe not even advisable. It's plastic and actually floats, not sinks, so I added some to be like a cloud/magical mist at the top of the jar. If you don't like that look, omit it)
*** If you're not sure whether something will hold up in the snow globe, place it in water for a couple of hours. If it hasn't started to look funky, you're probably good to go! ***
To make your magical fairy snow globe:
Play around with your jar and fairy to make sure she really does fit in there! If she doesn't go ahead and find a new jar before gluing anything down.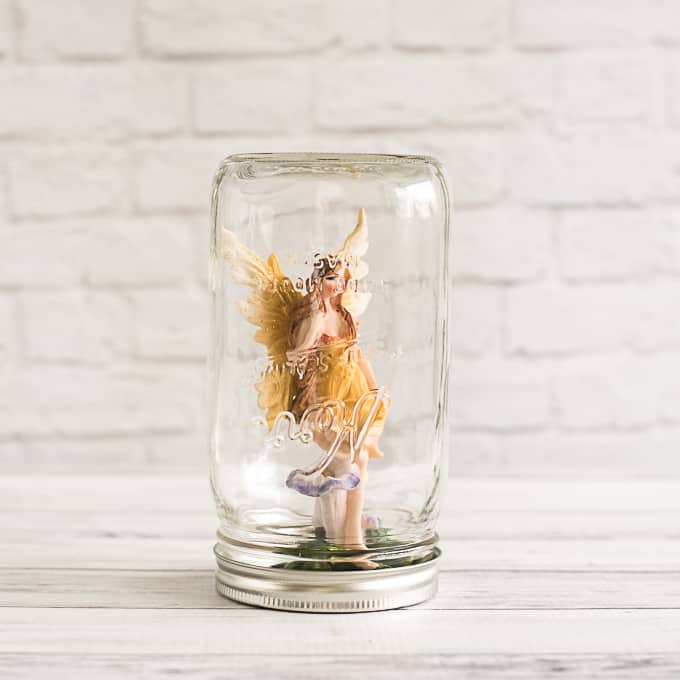 Some people glue the lid to the band, but I decided not to. For one, I was using a new canning jar and trusted its seal. Additionally, I was afraid adding glue might actually make the seal worse and create gaps! Instead, I jumped straight to gluing my fairy in place with a medium CA (the technical name for all varieties of "super glue").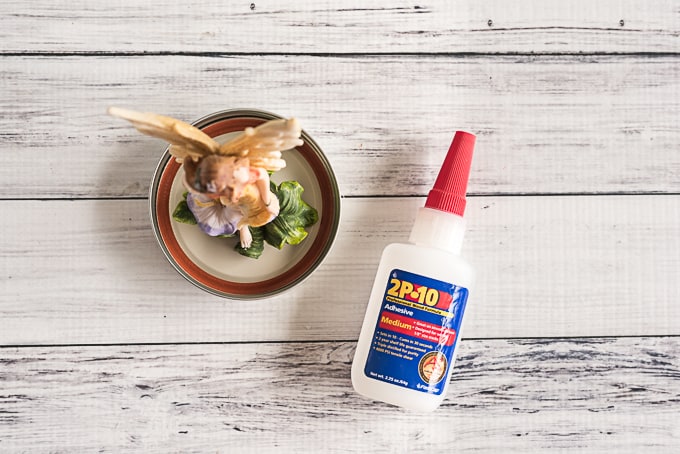 Add your extras! If you have multiple elements to add, I highly recommend playing around with them and doing a 'dry fit' before gluing things down. After allowing the CA to set, I started adding faux greenery. I put a big dollop of hot glue where I wanted to place the plant, then a tiny dab along the back of my fairy's wing to help hold it in place. Hold the plants in place until the hot glue has turned translucent, which only about 20-30 seconds for most hot glues.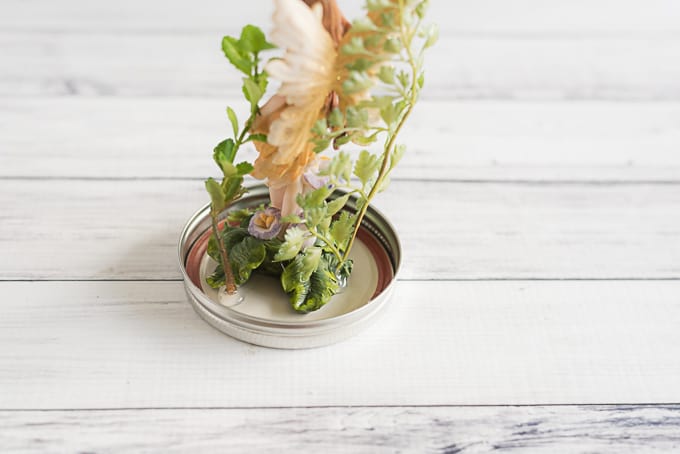 While your glue is drying, add a little fake snow (if you're using it – reminder, it will float!) and a lot of glitter to your jar. The exact amount of glitter you'll need will depend on your jar, but I used about half an ounce in my pint jar.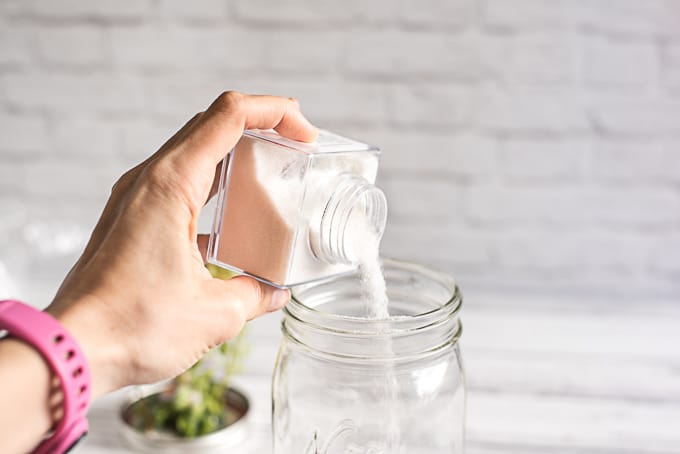 It's difficult to know exactly how much volume your fairy and her friends will displace, so I recommend doing the next part over the sink! Fill your jar most of the way with distilled water and add a little bit of glycerine. The glycerine is optional, but it thickens the water to make the glitter float a little more on the way to the bottom. If you add too much glycerine, the glitter will just stick to the bottom, instead. For a small jar (think baby food sized) you only need a drop or two, but add a bit more for larger jars.
With your jar in/over the sink, carefully lower your fairy into the jar. If you can tell there will be a lot of empty space, add more water. You want as little air as possible in the jar! Make sure to position your fairy so any text or designs on the jar aren't blocking her pretty face.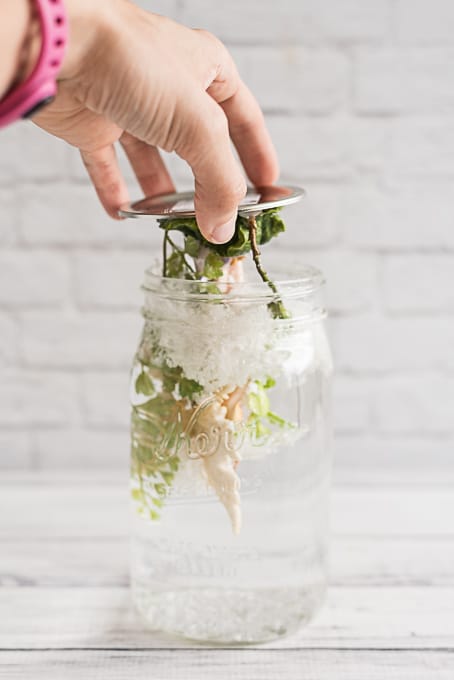 Screw the band in place and tighten it firmly. If you're using an upcycled jar with a less secure lid, you may want to glue it in place.
Flip your jar over and enjoy the show! {{This is a GIF. If you don't see the snow swirl, you can reload the page then scroll down again. =) }}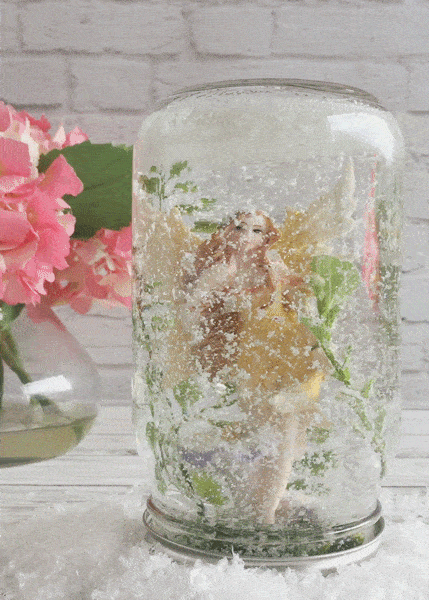 I really hope you enjoy this magical fairy snow globe tutorial! It's so easy to be creative with this project – I'd absolutely love to see your snow globe if you make one! Take me on Twitter @natasha5887 or on IG @natashalhn so I can see your beautiful creation. =)