This post may include affiliate links, which means I make a commission on purchased made through these links at no additional cost to you. Thank you for your support! !
I haven't really blogged about it, but my husband and I are excited to be welcome a new member to our family in late October/early November! We look forward to meeting our little one and learning about him/her relatively soon. I believe that even young babies have their own distinct personalities and are capable of understanding so much more than we give them credit for, so the idea of meeting this "intimate stranger" is very exciting. Anyway, as personally exciting as all this is, it hasn't been particularly relevant to my blog's focus until now. I told myself I wouldn't really get going on DIY baby projects until after we returned from West Virginia and then I got so busy making that I didn't have much time for writing! Moving forward, you can expect to see more posts on DIY and tutorials for baby-related items made with natural materials, but I promise there will be plenty of other tutorials, too! Today's post includes a tutorial for DIY gauze baby washcloths that can also double wonderfully as adult washcloths for sensitive skin. They would make a lovely present for new parents or as part of a "DIY spa" type gift set!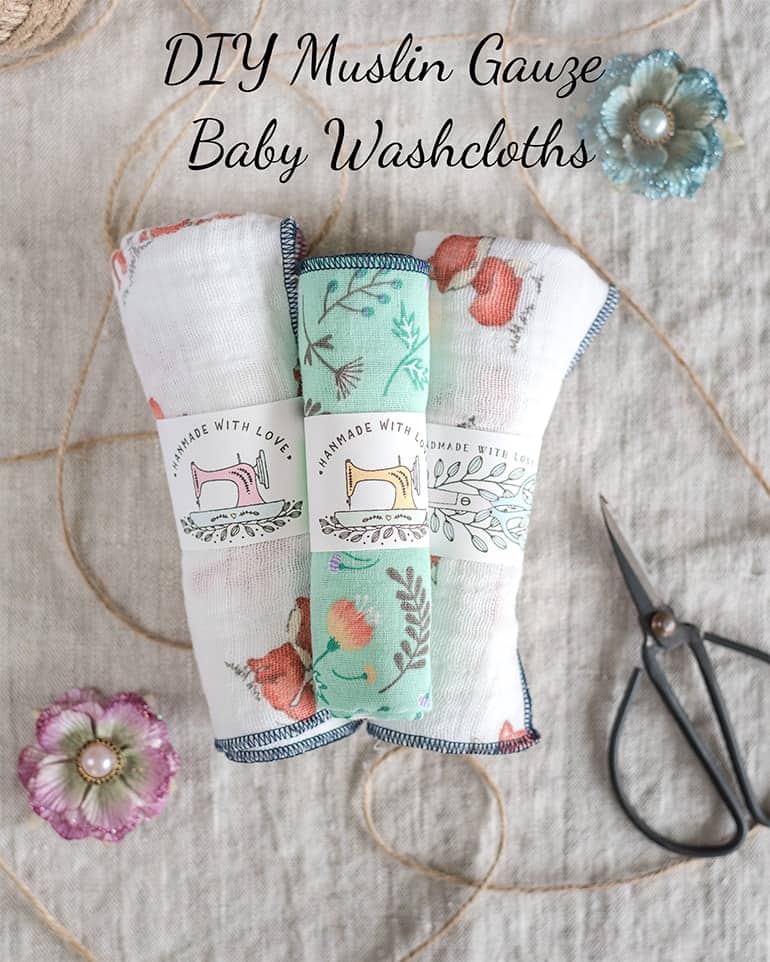 If you know me at all, it won't surprise you to learn that we've been making as much of our own baby "stuff" as possible. My husband and I are both into natural materials, handmade items, DIY, and a certain degree of minimalism. Just like I'm exhausted by the consumerism and commercialization surrounding so many holidays, I'm frustrated by our current society's messages that you must have these one zillion (plastic) baby items or you're a bad parent!!! We would rather our child have a smaller number of high quality items s/he can truly use and appreciate and that, whenever possible, meaningfully fulfill developmental needs instead of providing 'entertainment.'
That's kind of a long introduction for a tutorial, but I wanted to fill everyone in and give some background for today's project! Because we prefer handmade items and natural materials, I decided to make a few soft double gauze facecloths for Baby. People frequently recommend a sponge bath with a facecloth for newborns until their cord stump falls off, but we don't have any facecloths! (That probably sounds weird, but I prefer to use a hand towel. Anyway.) We didn't want to rush out to buy brightly colored scrub mitts or 'normal' facecloths that might be a bit rough for newborn skin, so I made these DIY easy simple baby washcloths, instead! They're cute, simple, and easy to customize with the double gauze fabric of your choice – I hope you enjoy!
Even though you're more likely to think "terry" than "gauze" if you're shopping for washcloth or towel fabrics, double gauze is a lovely choice for this project because it's so soft! Actually, most of the commercially available "muslin" baby washcloths and blankets are made from gauze. If you're a bit crunchy, you may enjoy making these washcloths out of organic gauze. I purchased all of my gauze from Fabric.com. This isn't a sponsored post (wouldn't that be fun!), I've just been a loyal customer for years. Obviously you don't have to use organic fabrics, but they're a nice touch for something that will come into contact with a newborn's skin. As you can see, I got the fabrics I personally liked without worrying about whether they were 'for' a boy or girl. 🙂
Although I'm calling these baby washcloths, they're really very multipurpose. Folded in half they can become a small burp cloth, and the light fabric means they'll fit perfectly in a bag or purse to have on hand for quick clean ups on the go. They're also nice as adult washcloths for sensitive skin or as reusable makeup remover cloths.
Materials needed for DIY gauze baby washcloths
Double gauze fabric. Each washcloth is 12″x12″, so I recommend getting at least 1/2 a yard to allow for shrinkage in the wash. For a thicker washcloth, allow a total of 12″x24″ for each one.
An iron and ironing board
A rotary cutting set or a cardboard cutting mat with scissors

If you don't have either, then find a 12″ square piece of scrapbook paper or yardstick and I'll show you what to do!

A serger or sewing machine & tread
A large, blunt needle to secure your thread, if you're serging
DIY gauze baby washcloths tutorial
First and foremost – wash your fabric! Yes, it may come out super wrinkly and that's annoying because then you'll have to iron it, but cotton gauze does shrink so it's very important to prewash it. I went ahead and washed all four pieces of my gauze at the same time, even though I didn't make everything into facecloths.
It's generally best to wash gauze either cold or warm and dry it on a low setting.
In case you don't know, the usual rule is to prewash and dry your fabrics at least as warm as you plan to launder the finished project. Prewashing warm and then 'actually' washing cold is great, but preaching cold and then washing the finished project warm can lead to awkward shrinkage!
Iron your fabric. Gauze frequently gets a sweet, crinkled appearance after washing and that's great, but ironing before cutting and sewing will help ensure your washcloths are more square than 'random quadrilateral.'
Using your rotary cutting set or cardboard cutting mat & scissors, cut your fabric into 12″ squares. You'll need just one square per washcloth, so cut as many pieces as you'd like cloths. If you'd like a more luxurious washcloth, cut two squares for each.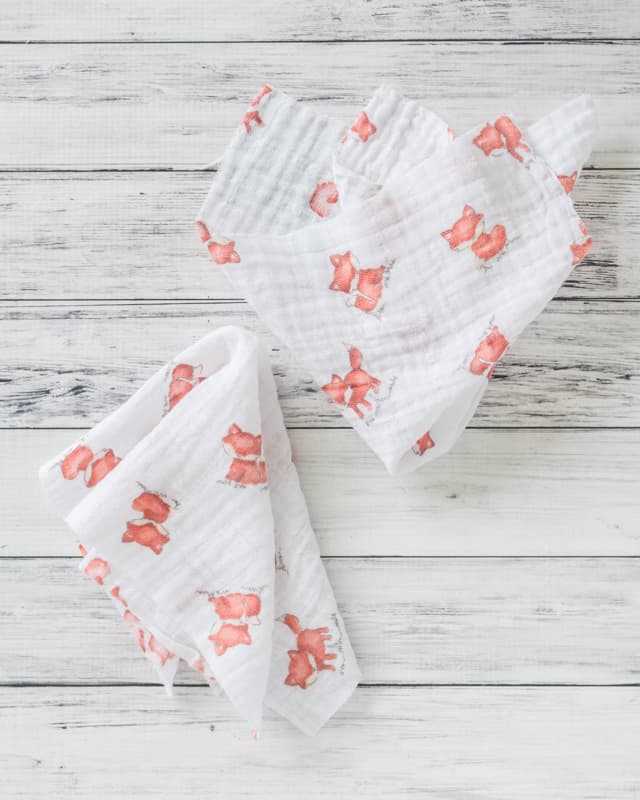 If you don't have a cutting mat place a 12″ square piece of cardstock on your ironed fabric. You can pin it in place, trace around it, or simply hold it in place and then cut.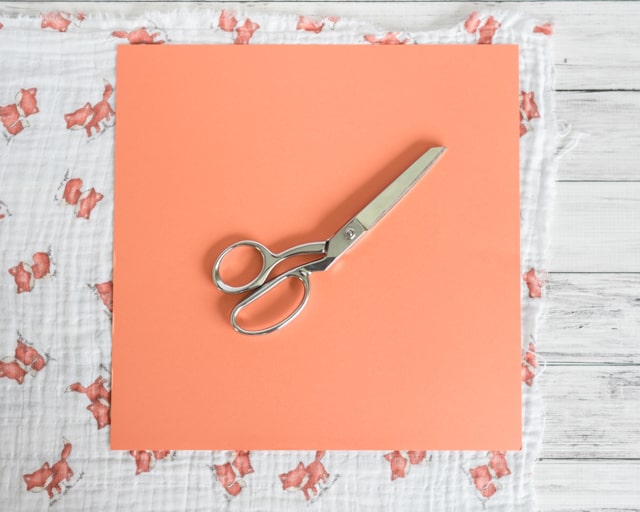 Finish the edges of each cloth to prevent fraying (gauze loves to fray!) either with your serger or sewing machine. If you're using a sewing machine, you'll probably want to use wither a zig zag stitch or an overcast stitch. For a thicker washcloth, pin two pieces together, right sides out, and serge/stitch them simultaneously. You may want to use thread that blends in with the fabric a little better – I made these with a contrasting thread to make it easier to see for the tutorial.
If you're using a serger, don't forget to grab a large, blunt needle and tuck that tail thread under to secure your stitching!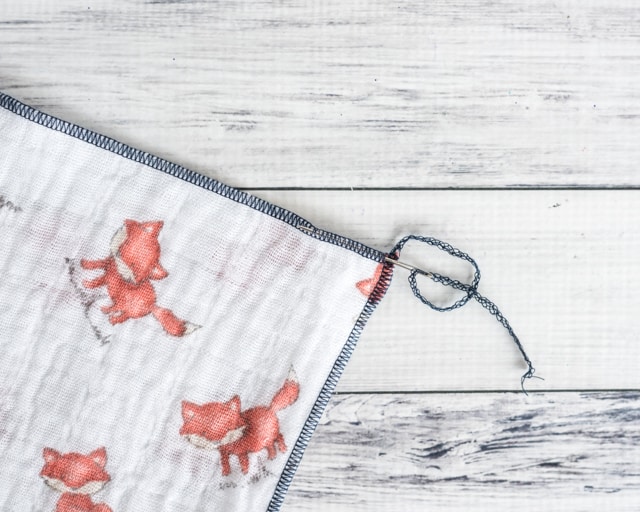 Repeat until you have a stash of super cute and soft DIY gauze baby washcloths!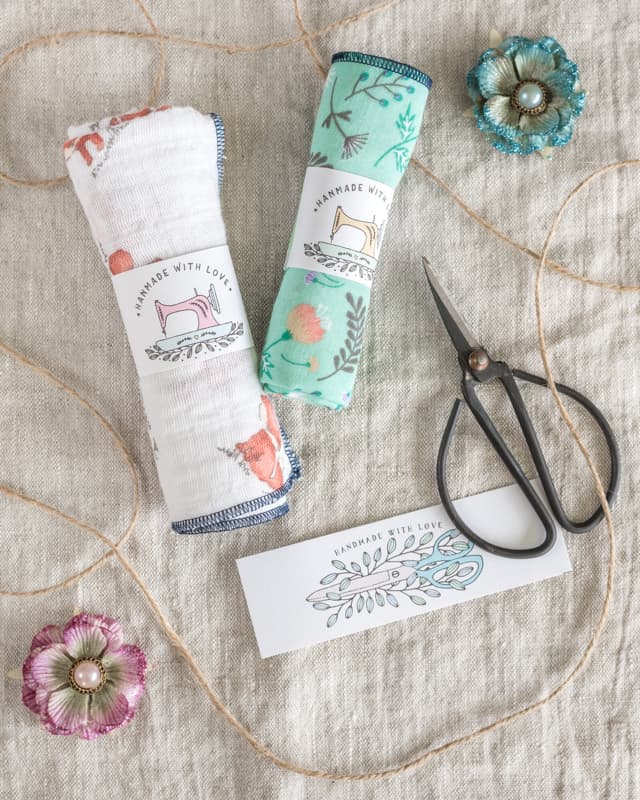 I also made a quick, newborn sized towel that's about 30″x30″ by cutting two squares and serging them together, just like a larger version of the thicker washcloth. It should also work well as as an impromptu changing pad if needed.
I'll be sharing the printable "handmade with love" bands in just a few days! They're the perfect way to turn these washcloths into a gift, and they're sweet on napkins, towels, blankets, and many other handmade projects. Update – head to this post to learn more about the "handmade with love" bands and snag your free printable!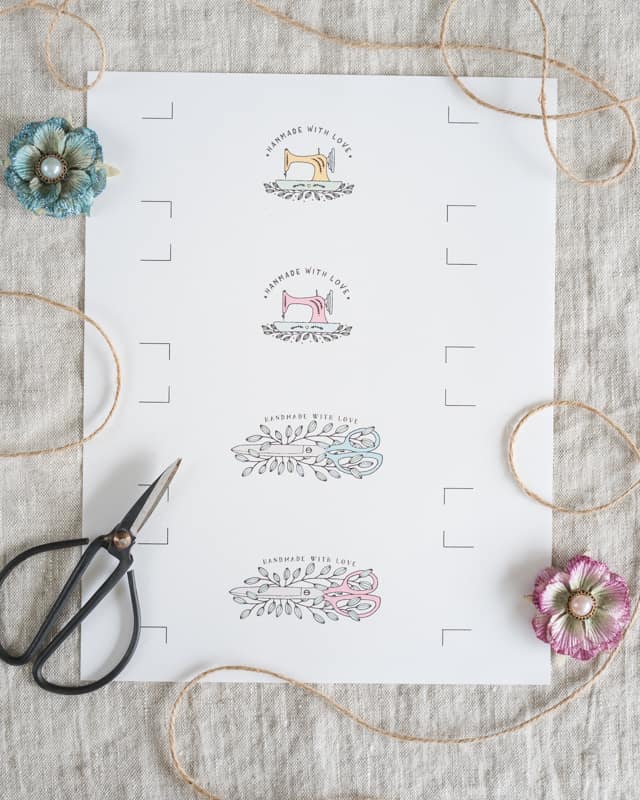 One of the reasons it's been so relatively quiet around here with only one post most weeks is that I'm busy making things and planning ahead so The Artisan Life doesn't suddenly go totally silent after Baby arrives. I've started preparing early because I hope to be finished early; although I fully realize that a Halloween "guess date" could easily mean Baby arrives in November, I'm trying to be as ready as possible several weeks ahead of time. I was "supposed to" be a mid-December baby but arrived before Thanksgiving! As I wrote earlier in the post, I will be blogging about some of these baby-related projects. I do not, however, plan to write general pregnancy updates or 'what's in my hospital bag' type posts for a variety of reasons. Suffice it to say that everything has gone very well thus far (knock on wood and all that!) for both of us. A bit of it may be luck, but I give lots of credit to eating well, staying active, and using pregnancy affirmation cards and/or recordings daily. Your mind is an incredible, powerful tool and the way you think about yourself tends to become your reality, which is why I absolutely rate affirmations as a very important part of taking care of myself.
I hope all my readers in the US had an enjoyable Labor Day weekend and I look forward to sharing the printable "handmade with love" bands later this week!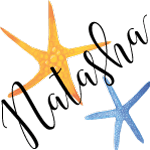 Disclaimer: This post includes affiliate links. If you make a purchase using one of these links, The Artisan Life will receive a small commission at no additional cost to you. Thank you for your support!
SaveSave
SaveSave
SaveSave