This DIY mermaid picture frame is so perfect for holding your summer vacation photos!
Nothing says summer like mermaids! Or maybe that's just me… Even though we're currently enjoying our time in the mountains away from the sea, mermaids and basically everything beachy/nautical are never far from my mind!
This DIY mermaid picture frame is absolutely perfect for saving summer memories or a vacation photo, plus it's surprisingly simple to make. If you don't already have a mermaid scale stencil, don't worry. You can use my cut file or the PDF to hand cut your own and you'll be on the way to having your own mermaid picture frame in no time!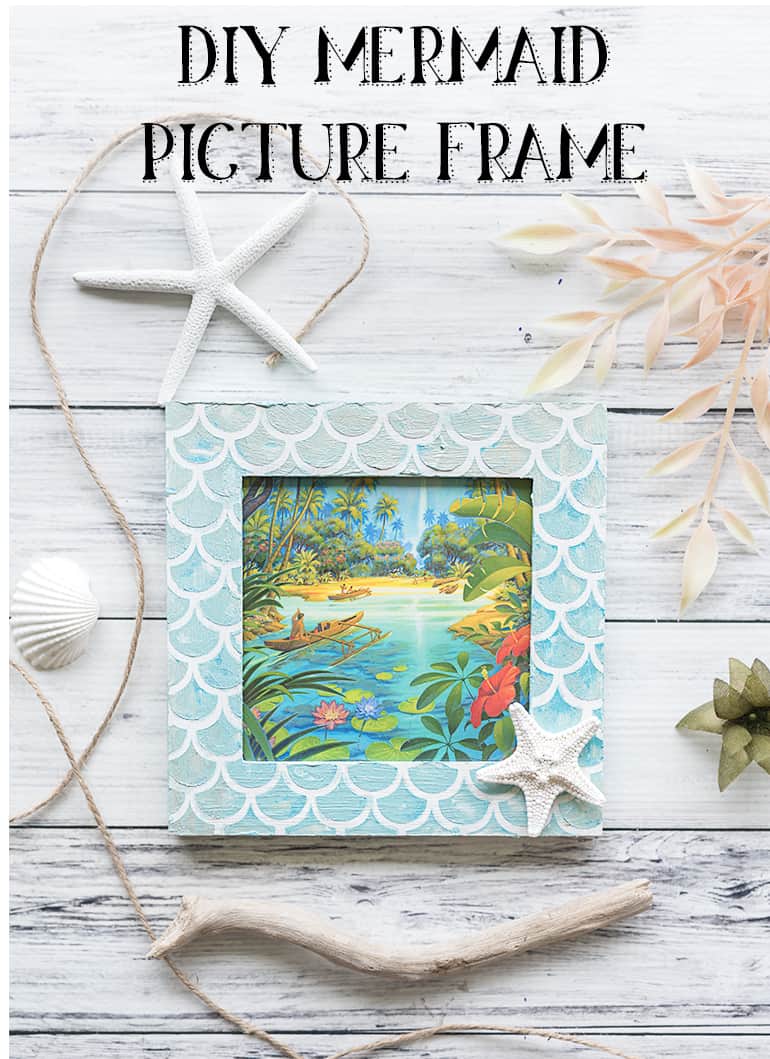 This post may include affiliate links, which means I may make a commission on purchases made through these links at no additional cost to you.
If you enjoy mixed media art, some of these materials will look very familiar to you. If you don't, don't stress! The supplies are fairly easy to find at craft stores and online. If I can find them in Hawaii, where the variety of craft supplies is comparatively limited, I'm sure you can find them, too!
Materials for making your own mermaid picture frame
A picture frame – I suggest an unfinished wood frame. A paper mache or chipboard frame can work, too. Most of the options I've seen on Amazon are multi-packs like this one, so scope out your local craft store for singles!
Acrylic craft paint – I suggest white – and a paint brush
A gelato in a mermaid-y color. This pack of gelatos has some lovely mermaid options!
Modeling paste. I used Texture Luxe in metallic pearl, but you can use 'regular' modeling paste medium and mix in a pearlescent powder or mica powder (or even some shimmery eyeshadow). You can also make your own texture medium with supplies you probably already have at home. Check out this lovely post from Such a Pretty Mess to see how!
A small bowl or other mixing container. A jar lid can work well.
A mermaid scale stencil
Shells or charms to decorate & hot glue – optional
If you don't have any gelatos, modeling paste, or a palette knife, you might want to consider one of the Faber Castell mixed media kits. They're a good value!
Faber-Castell Exploring Mixed Media for Beginners - Tropical
GREAT FOR BEGINNERS - Includes all tools and mediums necessary for a perfect Mixed Media Experience! Includes the following items: 5 Gelatos Colors in...
TROPICAL COLORS - Create mixed media art in vibrant, beautiful color! This kit includes Gelatos in Watermelon, Margarita Mix, Raspberry, Snow Cone and...
THE PERFECT MIXED MEDIUM - Gelatos are a dynamic medium that is a compact, acid-free, water-soluble, odorless, light fast pigment crayon that glides...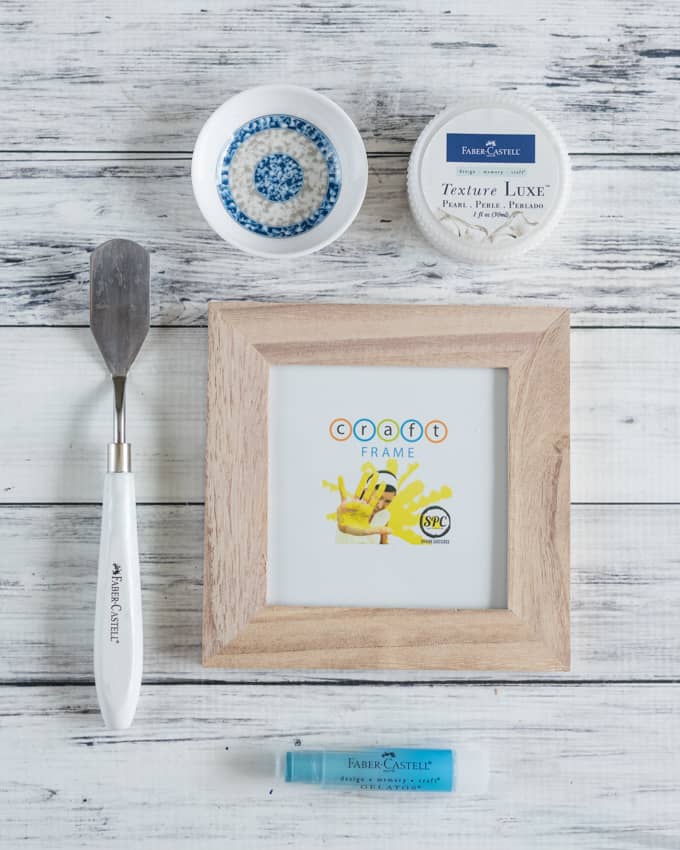 How to make a mermaid scale picture frame
To begin with, remove the back and glass from your picture frame.
Paint your frame with your base color – I used white. You may need to paint the frame in sections so you have somewhere dry to hold the frame while painting!
Once the paint is dry, cut off about 1/4″ of your gelato and place it in your small dish. Use your pallet knife to cut/grind it up.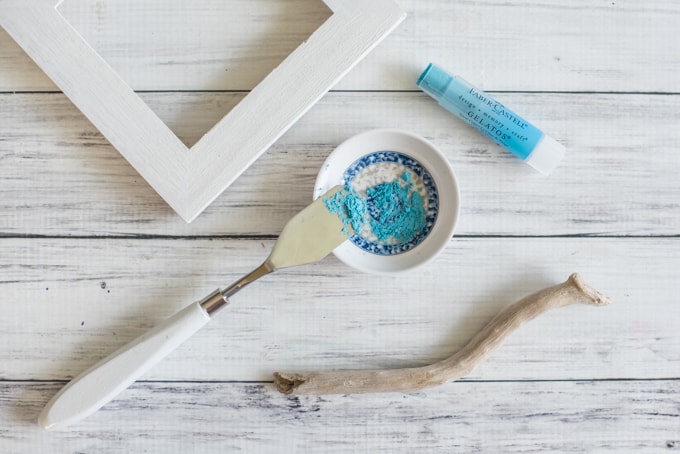 Mix in some of your modeling paste. The exact amount needed will depend on the size of your frame. I prefer to mix in more paste, and gelato if needed, instead of risking "wasting" extra by scooping too much out at once. Mix to combine the paste and gelato, but don't stress about making the color completely homogenous. Some variation in vibrance is fun and looks better!
Hold your stencil in place and use your pallet knife to apply the gelato/paste mixture. As soon as you've covered the entire frame, carefully lift the stencil. Don't let the paste dry with the stencil in place or it will be very difficult to remove!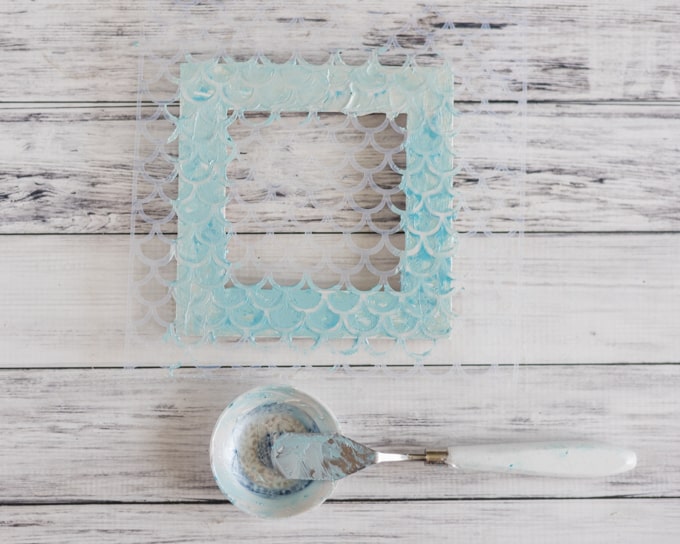 Allow the paste to fully dry. Once it's dry, you can add shells, charms, or other embellishments. Hot glue is a quick and easy way to hold them in place, but Original Tacky Glue is fantastic if you don't mind waiting a little bit for it to dry.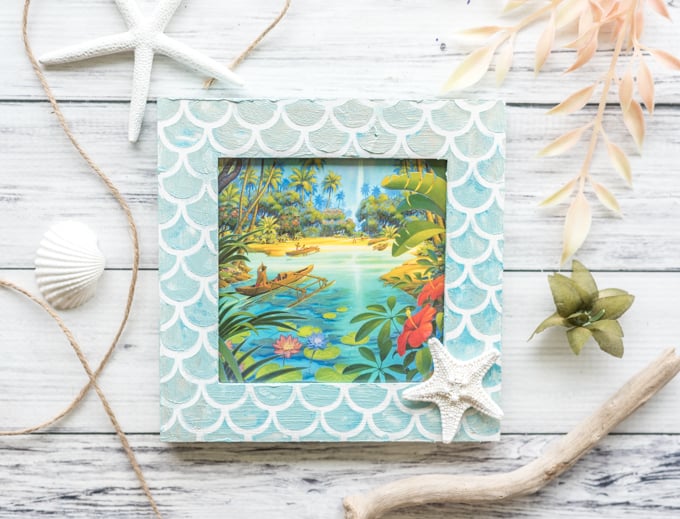 Replace the glass and back with your picture inside the frame. Enjoy your awesome new mermaid picture frame!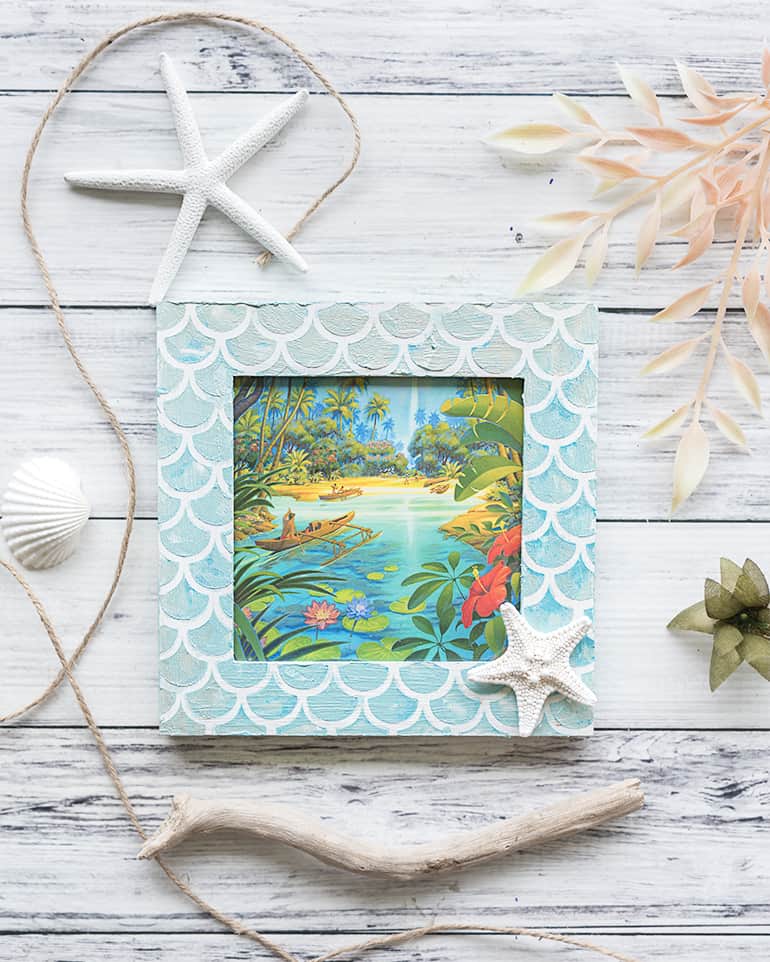 After being really interested in mixed media projects for several years, I finally started playing around with them a few months ago. It is so much fun! I'm sure I'll be sharing more mixed media tutorials in the future. 🙂
More mermaid crafting tutorials!
If you're here for the mermaid theme, not necessarily the medium, then you might also enjoy this mermaid treasure box!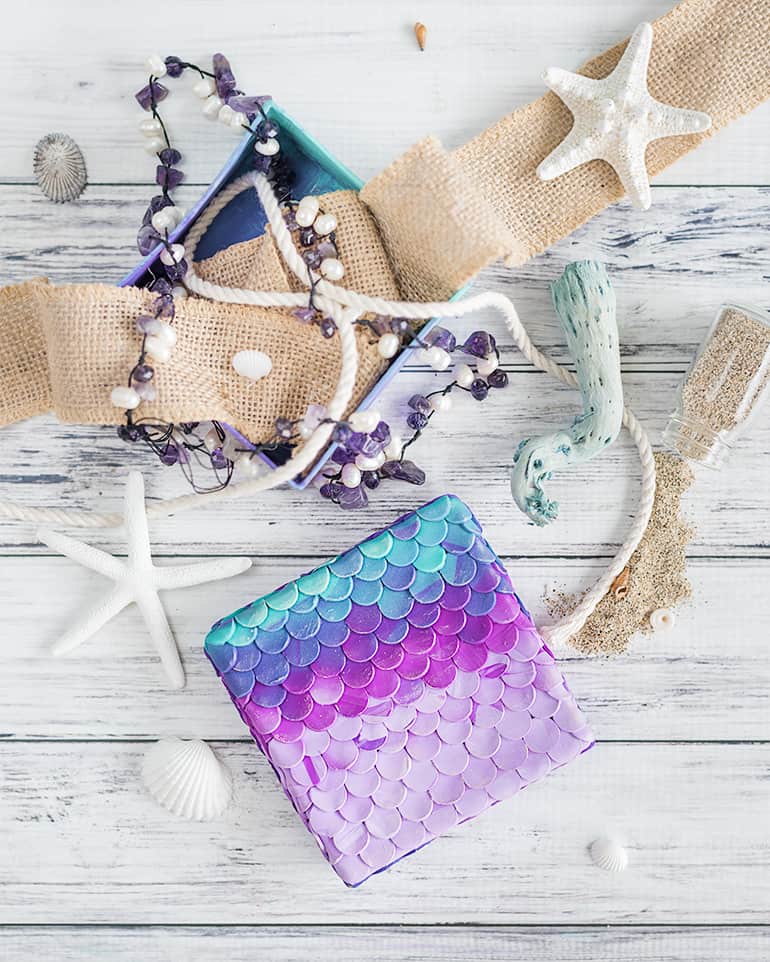 Or perhaps this mermaid vase?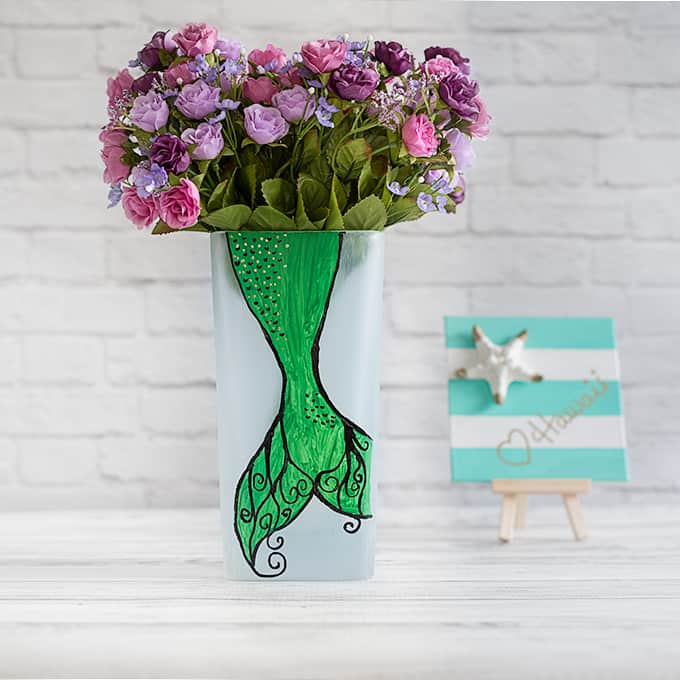 Mermaid tail necklace (made with hot glue!)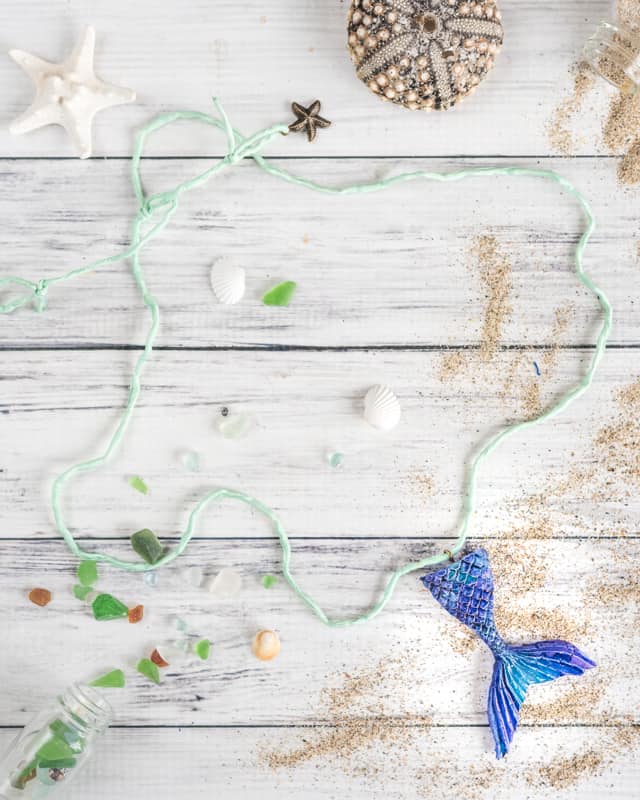 Polymer clay mermaid tail earrings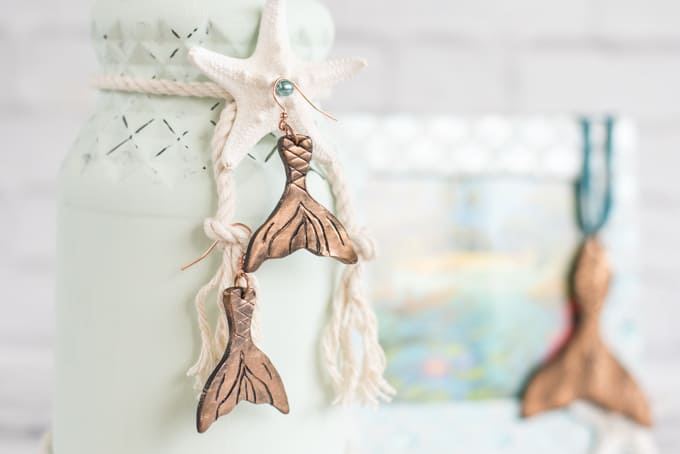 Have you played around with mixed media projects before? What's your favorite medium?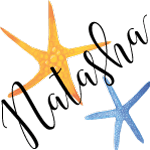 More Related Posts